Meeting dates:
The conference consists of two parts. Scientific presentation part takes place on 10 - 11 July. Scientific retreat part takes place on 12 – 14 July. Recommended arrival and departure dates are July 9th and 15th.
Location:
The scientific presentation part will be held at: University of Warsaw, Faculty of Physics, 5 Pasteur St. 02-093, Warsaw, Poland
http://www.fuw.edu.pl/how-to-get-there.html
Information for presenters:
Speakers should plan for 15 minutes talks + 5-10 minutes for questions and discussion.
Registration and abstracts:
In order to register please send an email with the abstract attached to: Maria.Duczyminska@fuw.edu.pl. The abstract should not be longer than 250 words in total. Please also indicate your interest in participation in the retreat. Detailed retreat information will be sent only to those who express their interest during registration. Please register before June 1st. The number of slots for presentations is limited. We cannot guarantee your talk, if your abstract is submitted after the deadline. There is no registration fee.
<![if !vml]>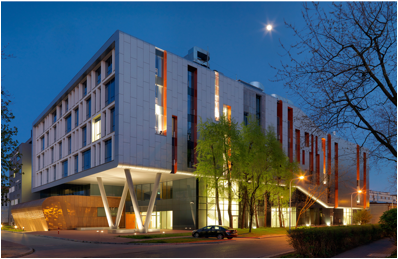 <![endif]>
Faculty of Physics, University of Warsaw
Drinking and food:
Coffee/tea breaks will be availabe between sessions free of charge. Luches and dinners are not covered but group visits to restaurants nearby will be arranged.
Scientific retreat:
The established practice of the conference is to organize outdoor scientific retreat where participants may spontaneously continue discussions in less formal setting. The retreat will consist of 3-day kayak trip in one of the most beautiful areas in North East Poland. The retreat includes camping in tents and cooking on campfire (both weather permitting). The kick-off party dinner with traditional Polish food will take place at a country farm near starting point of the kayak trip. Information regarding necessary camping equipment will be sent by email to retreat participants.
<![if !vml]>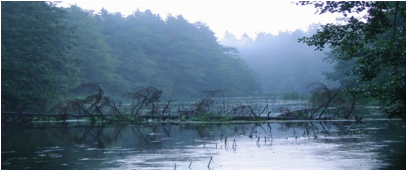 <![endif]>
Czarna Hancza river where scientific retreat will take place.
http://superkajaki.com.pl/szlaki/czarna-hancza/
Recommended accommodation:
There are a number of sleeping options in Warsaw. The University campus, where the conference will take place, is located in Ochota district (about 2.5 km from the city centre). It is easily reached by public transport or taxi. We suggest to book accommodation either in the vicinity of the campus (convenient but unattractive) or near city centre and Old Town (requires transport but much more pleasant). When booking, please note that departure for the retreat is on July 11 evening and return is on July 14 early afternoon.
Near the campus:
Warsaw University Student residence hall
Żwirki i Wigury 97/99, 02-089 Warsaw
http://www.ds1.uw.edu.pl/ds/doku.php?id=ds1_pokoje_goscinne
Prices: double room (22.5 Euro per room), triple room (8.75 Euro per person)
It is located few steps from the conference venue. We can help with booking, as information may not be available in English
AB Hostel
Tarczyńska 1 lok. 59, 02-025 Warsaw
Prices: double room (40 Euro per room), single room (35 Euro)
Radisson Blu Sobieski Hotel Warsaw
Plac Zawiszy 1, 02-025 Warsaw
http://radisson-blu-sobieski.hotel-warsaw.net/en/
Prices: double room (100 Euro per room), single room (100 Euro)
Other:
Okidoki Hostel
Plac Dąbrowskiego 3, 00-057 Warsaw
Prices: double room (45 Euro per room), single room (45 Euro)
Mamaison Residence Diana Warsaw
ul. Chmielna 13A, 00-021 Warsaw,
Prices: double room (94 Euro per room), single room (94 Euro)
Near Old Town:
Hotel Harenda Warsaw
Krakowskie Przedmiescie 4/6, 00-071 Warsaw
http://hotel-harenda.hotel-warsaw.net/en/
Prices: double room (85 Euro per room), single room (around 50 Euro)
Hotel Bristol
Krakowskie Przedmieście 42/44, 00-325 Warsaw
http://www.hotelbristolwarsaw.pl/en
Prices: double room (150 Euro per room), single room (115 Euro)
Very nice luxury hotel
<![if !vml]>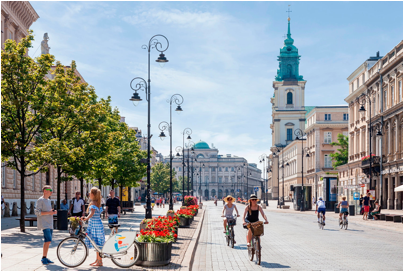 <![endif]>
Krakowskie Przedmieście Street, Warsaw
http://www.independent.ie/life/travel/europe/wonderful-warsaw-why-nows-the-time-to-visit-polands-capital-of-cool-35492816.html