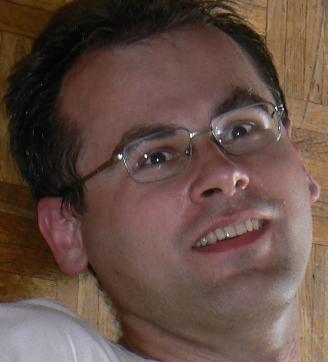 I was born in 01.06.1976 in Glowno near Lowicz.
I will die on
13.08.2051
I am a Ph.D. student at A. Soltan Institute for Nuclear Studies in Warsaw.
About me
Welcome to my website!
This page is devoted to my scientific activities as a physicist.
My field of interest is cosmic ray physics.
My annual report
My annual report 2007-2008
My last presentations
Plany pomiaru tla neutronowego w podziemnych laboratoriach
2007-10-15 2007-10-18 Perspektywy Astrofizyki Czastek, Krakow
Pomiary neutronow w promieniowaniu kosmicznym
2007-10-15 2007-10-18 Perspektywy Astrofizyki Czastek, Krakow
Pomiar strumienia neutronow termicznych w podziemnym laboratorium w Gran Sasso
2008-06-03 Instytut Fizyki,Uniwersytet Slaski, Katowice
My publications
THE ROLAND MAZE PROJECT
J.Gawin, I.Kurp, K.Jedrzejczak , P.Plucinski, B.Szabelska, J.Szabelski, T.Wibig
Acta Phys. Pol. B 33(2002)349
PROJEKT IM. ROLANDA MAZE'A; FIZYKA PROMIENIOWANIA KOSMICZNEGO
T.Wibig, J.Feder, J.Gawin, K.Jedrzejczak , J.Karczmarczyk, I.Kurp, R.Lewandowski, J.Swarzynski, B.Szabelska, J.Szabelski, P.Tokarski et~al.
Fizyka w Szkole 46(2002)195
DELAYED SIGNALS -- NEW METHOD OF HADRON STUDIES
K.Jedrzejczak
Proc. 13th Int.School of Cosmic Ray Astrophysics ,,Relativistic Astrophysics and Cosmology'', Erice, Sicily, 2-14 June 2002, World Scientific, ed. A. Zichichi, 279, 2003
THE ROLAND MAZE PROJECT
K.Jedrzejczak
Proc. 13th Int.School of Cosmic Ray Astrophysics ,,Relativistic Astrophysics and Cosmology'', Erice, Sicily, 2-14 June 2002, World Scientific, ed. A. Zichichi, 279, 2003
REGISTRATION OF PARTICLES DELAYED BY 400 -- 1000 MICROSEC AFTER EAS
J.Gawin, K.Jedrzejczak , J.Karczmarczyk, M.Kasztelan, S.A.Petrochenkov, A.Polanski J.Swarzynski, B.Szabelska, J.Szabelski, T.Wibig
Proc 28th ICRC, Tsukuba, Japan, July 31 - August 7, 2003, 45
DIRECTIONAL VARIATION OF THE 5 GEV MUON FLUX OBSERVED IN THE UNDERGROUND MUON TELESCOPE
M.Alania, K.Jedrzejczak , J.Karczmarczyk, J.Swarzynski, B.Szabelska, J.Szabelski, T.Wibig Proc 28th ICRC, Tsukuba, Japan, July 31 - August 7, 2003, 3573
AN AIRBORNE EAS EXPERIMENT TO ANALYSE THE KNEE ENERGY REGION
J.N.Capdevielle, F.Cohen, K.Jedrzejczak , B.Szabelska, J.Szabelski, T.Wibig
Int. J. Mod. Phys. A 20 (2005) 6787
EAS ARRAY ON BOARD OF THE A380 AIRLINER
J.N.Capdevielle, F.Cohen, K.Jedrzejczak , B.Szabelska, J.Szabelski, T.Wibig
Int. J. Mod. Phys. A 20 (2005) 6790
REGISTRATION OF NEUTRONS WITHIN 2 MILLISECONDS AFTER EAS
K.Jedrzejczak , J.Kaczmarczyk, M.Kasztelan, S.A.Petrochenkov, A.Polanski, J.Swarzynski, J.Sz abelski, T.Wibig
Int. J. Mod. Phys. A 20 (2005) 6693
THE ROLAND MAZE PROJECT -- COSMIC RAY REGISTRATIONS AT SCHOOLS
J.Feder, K.Jedrzejczak , J.Kaczmarczyk, S.Lewandowski, J.Swarzynski, J.Szabelski, T.Wibig
Int. J. Mod. Phys. A 20 (2005) 6881
NABLUDENIE NEJTRONOV W TECHENIE NESKOLKICH MILLISEKUND POSLE SZAL
S.A.Petrochenkov, A.Polanski, K.Jedrzejczak , J.Karczmarczyk, M.Kasztelan, J.Swarzynski, B.S zabelska, J.Szabelski, T.Wibig
Izvestija RAN serija fizicheskaja 69, (2005) 385-387
EAS experiment on board the Airbus A380
J.N.Capdevielle, F.Cohen, K.Jedrzejczak , B.Szabelska, J.Szabelski, T.Wibig
Nucl. Phys. B Proc. Sup. Vol. 151 No 1 (2006) pp. 414-41
Registration of neutrons within 2 milliseconds after EAS impact
K. Jedrzejczak, J. Karczmarczyk, M. Kasztelan, S.A. Petrochenkov, A.Polansk, J.Swarzynski, J.Szabelski, T.Wibig
Nucl. Phys. B Proc. Sup. Vol. 151 No 1 (2006) pp. 329-33
The Roland Maze Project - School-based extensive air shower network
J. Feder, K. Jedrzejczak , J. Karczmarczyk, R. Lewandowski, J. Swarzynski, B. Szabelska, J. Szabelski, T. Wibig
Nucl. Phys. B Proc. Sup. Vol. 151 No 1 (2006) pp. 430-43
Search for correlations of GRB and cosmic rays
K. Jedrzejczak, M. Kasztelan, L. Mankiewicz, M. Molak, K. Nawrocki, L.W. Piotrowski, M. Sokożowski, B. Szabelska, J. Szabelski, T. Wibig, A.W. Wolfendale, G. Wrochna
Astroparth. Space Sci. 309 471 2007

One (nationalistic) link