Krzysztof Wohlfeld (homepage)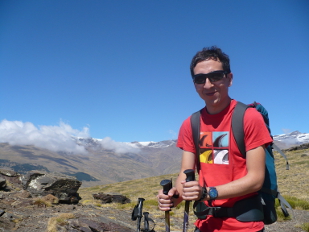 THERE IS A TWO-YEAR POSTDOC POSITION AVAILABLE IN OUR GROUP: please click look here for details.
Assistant professor at the Institute of Theoretical Physics of the Faculty of Physics of the University of Warsaw
Brief CV:
Submitted papers:
K. Bieniasz, P. Wrzosek, A. M. Oles, K. Wohlfeld, "Superexponential Wave Function Decay: A Fingerprint of Strings in Doped Antiferromagnets"; submitted (2018); arxiv.
E. M. Paerschke, Y. Wang, B. Moritz, T. P. Devereaux, C.-C. Chen, K. Wohlfeld, "Numerical Investigation of Spin Excitations in a Doped Spin Chain"; submitted (2019); arxiv.
Published papers:
Teaching:
Download and links:
Hobby = travelling (only trips outside Poland and excluding my longer stays in Dresden and Palo Alto but including also some of the work-related trips; trips longer than ca. 2-3 days only):
1987: Bulgaria (Black Sea coast, Michurin), Czechoslovakia (Prague)
1988: Bulgaria (Black Sea coast, Varna)
1989: Bulgaria (Black Sea coast, Varna)
1990: England (one month in an elementary school in Sheffield and two days in London), Bulgaria (Black Sea coast, Varna)
1991: Soviet Union (Sochi, incl. a one-day trip to Abkhazia)
1992: England (one month in an elementary school in Sheffield and two days in London), Czechoslovakia (Zemplinska Sirava)
1993: Austria (two days in Vienna in December)
1994: Hungary (two days in Budapest in June)
1995: Wales (one week in Bangor in May), Slovakia (Tatra Mountains)
1996: Germany (one week in Nuremberg, Regensburg, Erlangen, and Leipzig), Slovakia (Tatra Mountains)
1997: Italy (one week: Udine, Trieste + one day in Venice), Switzerland (more than two weeks in the countryside of the Fribourg canton -- trips around, incl. Evian, Lausanne, Bern, Zurich, Gstaad, Interlaken), Slovakia (Tata Mountains)
1998: Austria (one week in Kaprun -- skiing), the Netherlands (Nijmegen as a base and then short trips to Utrecht, Amsterdam, the Hauge, Leiden, Rotterdam, and Delft; coming back via Brussels), the Czech Republic (one week in Prague), Ukraine (few days in Lviv), Slovakia (Tatra Mountains)
1999: France (one week in Lille and one week in Paris; Dresden on the way), Italy (two weeks in Venice, Padova, Verona, Ancona, San Marino, Rimini, Bologna) and Greece (two weeks following a "standard itinerarary" with Athens, the Peloponnese peninsula, and Crete), Italy (another week on a cheap school trip in autumn: Bibione, again Padova and Venice)
2000: Slovakia (1999/2000: skiing in Chopok), Germany (one week in Berlin in winter), Italy (three weeks: "everything" from the northern border down to Rome + Sardegna) and France on the way there (one week: Chamonix, Corsica), Hungary (one week on the Balaton lake) and Slovenia (one week in Bohinj; Ljubljana, Zagreb and Graz on the way), US (one week in Iowa and Chicago on the way)
2001: Finland (one week in winter in Helsinki), Austria (one week in the Alps -- Filzmoos) and the Czech Republic (two weeks in Stozec), Spain and Portugal (one month: "everything"; Toulouse, Lourdes, and Basel on the way), Romania (two weeks: Sinaia as a base and then Bucovina for another week; Bucharest, Constanta, Ukraine and Hungary on the way)
2002: Austria (one week in winter in Semmering and one day in Sopron, Bratislava on the way), Austria (two weeks in the Alps -- Heiligenblut and Millstatt), Eastern Turkey (a long three-week trip from Antalya up to the border with Iran, Armenia, and Georgia)
2003: Portugal (one week in winter in Madeira; beautiful), Ukraine (a "night train trip": Cernivci, Kamenets Podilski, Odesa, Kyiv, and Lviv), Austria (two days in Vienna -- Chwistek's exhibition and again hiking in the Semmering area), Hungary (few fays in Telkibanya, Eger on the way), Switzerland (two months and a half in PSI, Villigen and weekend trips from there incl. one week trip to Engadin), Italy (short one week from Switzerland: beach in Pesaro, Urbino, Peruggia, Assisi, Spoleto, Florence), Southern France and Liguria (one week after PSI: Grenoble, Orange, Marseille, Nimes, Cannes, Monaco, San Remo, Finale Ligure)
2004: the Netherlands (more than five months of Erasmus: weekend trips around the country), Belgium (Easter in the Ardennes -- "weekend gastronomique", a one day trip to Luxembourg), Slovakia (around Roznava), Austria (two weeks in the Alps in Rauris) and northern Italy (Garda lake and Verona), Ukraine (almost two weeks in Crimea, coming back via Kyiv, Lviv, Drohobitsh, and Uzhorod), Hungary (two days in Budapest)
2005: Germany (two weeks in Aachen and two short trips to Brussels, Mechelen, and Leuven), Malta (one week Easter break), the Czech Republic (one week in small towns in Moravia: Telc, Litomysl, Trebic, etc.) and Vienna (few days), Norway (Oslo-Trondheim-Lofoten-Jotunheimen-Alesund-Sognefjord-Bergen-Oslo), Italy (few days in Naples and two weeks in Vietri Sul Mare)
2006: Switzerland (one week cross country skiing in Kandersteg), Slovakia (Zuberec and Podbanske in the West Tatras), China (three weeks: Shanghai-Taian-Beijing-Hong Kong-Xiamen-Shanghai) and Finland (few days when coming back: lakes around Tampere), Germany (few days in Dresden and surroundings) and the Czech Republic (two days in Prague), Italy (two weeks in Vietri Sul Mare)
2007: Norway (one week cross country skiing in Gala), Germany (several short trips during my half a year stay in Stuttgart: Schwarzwald and the area around Stuttgart), France (few days in Alsace), Denmark (few short trips: Aarhus, Copenhagen, and around), Slovakia (two weeks in the Low Tatras, Slovak Paradise, Muranska Planina, High Tatras) and Hungary (few days in Telkibanya and Tokai in between the holidays in Slovakia), France (one week in Bessans in the Alps and two weeks in Les Houches, incl. climbing Mont Blanc, Annecy and Aosta on the way), Italy (two weeks in Vietri Sul Mare)
2008: Slovakia (2007/2008: few days in the High Tatras), Canada (one month in Vanocuver, trips around, incl. skiing in Whistler; one day trip to Seattle), Finland (one week cross country skiing in Lapland) and Estonia (one day in Tallinn on the way back by ferry from Helsinki), Italy (one week in Gran Paradiso, few days in Levanto and Cinque Terre, Bologna on the way back) and France (few days around Geneva and Chamonix), Cyprus (one week Pafos, Nicosia, two trips to the northen part) and Israel (one week: coming by ferry to Haifa from Cyprus, flying back by plane, "everything" incl. the West Bank), Italy (two weeks in Vietri Sul Mare), Germany (few days in Braunschweig, Goslar on the way; one weekend in Eisenach, one weekend in Munich)
2009: Slovakia (2008/2009: few days in the High Tatras), Norway (one week cross country skiing in Fefor), Spain (Gomera and Teneriffe; climbing Teide), Switzerland (one week in Saas-Fee in autumn), Germany (few days in Hamburg, Luebeck, and Mecklenburg in December)
2010: Switzerland (2009/2010: one week skiing in Grindelwald), US (one week in Portland: Mount St. Helen's and San Francisco on the way), the Faroe Islands (one week), England and Wales (few days in Bristol, Bath, Cardiff, and the highest peak of southern Wales)
2011: Switzerland (2010/2011: one week skiing in Fiesch), Malta (few days) and one week in Sicily ("everything"), Germany (few days in the Harz mountains), Bulgaria (Rila and Pirin, Sofia and one day in northern Greece)
2012: Austria (2011/2012: one week skiing in Hochkoening), US (two trips: one week in Boston and San Francisco each), Switzerland (few days in Zurich, Geneva, and Fribourg), Austria (few days in Graz visiting Maria), Spain (two weeks in Andalusia, one day in Morocco and in Gibraltar)
2013: Switzerland (2012/2013: one week skiing in Saas Fee), US (Northern California trip: Lassen and the Redwoods -- 10 days), US (several short trips: Washington, Baltimore, Yosemite, Lake Tahoe, Death Valley, LA)
2014: Slovakia (2013/2014: three days), US (few days in NYC and a four-day train trip from NYC to SFO), US (several short trips: Lake Tahoe, Big Sur, Denver, skiing in Colorado, Sequoia National Park, Markleeville, etc.; Utah-Colorado-Southern California; San Diego and Santa Barbara)
2015: Lake Tahoe (ski trip), Paris and Dresden revisited, La Palma island (Spain), Western Tatras (Slovakia), Kos island (Greece) with a short visit to Bodrum (Turkey), Split and Trogir (Croatia), Taiwan
2016: Lapland (ski trip), Berlin, Croatia (Vis, Brac, Mljet), Beskid Niski (Chyrowa), Fuerteventura
2017: Saas-Grund, Sedrun and Malbun (skiing), Milan, Ischia, Southern US (Tennessee, Georgia, and Alabama), Greece (Samothraki, Thassos), Beskid Niski (Chyrowa), Hungary (Zempleni hills), Hamburg, Barcelona
2018: Saas-Grund, Oxford, Northern California, Oregon, Washington, British Columbia, Boston, San Sebastian
---
Email address: krzysztof.wohlfeldINfuw.edu.sk (please replace "IN" by "@" and "sk" by "pl") January 2019