Next: Study of . Up: GT resonances from generalized Previous: Study of .

Thus far we have chosen not to let C1s depend on the density. Little is known about the empirical density dependence of the time-odd energy functional, and time-odd Landau parameters calculated from a ``realistic'' one-boson exchange potential in DBHF show only a very weak density dependence [64]. Because the kinetic spin term

, when evaluated in INM, also contributes to the density dependence of the Landau parameters, the density-dependence of that term must either be small or nearly canceled by other time-odd terms. In any event, in the following, we investigate what happens when C1s depends on the (isoscalar) density in the ``standard" way (10). All nuclei we look at have finite neutron excess, which means that the central density should be slightly smaller than

.

Figure 8: Variation of the GT resonance energy and the strength in the resonance when the ratio x

C1s[0]/

of parameters defining the density dependence of

in Eq. (10) is varied. Symbols and scales are as in Fig. 6.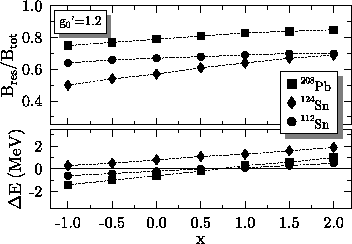 If g0' and g1' are fixed in saturated INM, there is one free parameter, C1s[0], with which one can vary the density dependence (10). (

is fixed by the value

=1.2, and we set the exponent

=0.25, as it is in the time-even energy functional SkO'.) We continue here to assume that gauge invariance holds, and that

.
We vary the parameter C1s[0] between

and

. Figure 7 shows the spatial dependence of

for several values of the ratio x

C1s[0]/

. By changing C1s[0], one can change both the GT resonance energy and the amount of the low-lying strength, even with

kept constant. As Fig. 8 shows, an increase of C1s[0] for a given g0' has almost the same effect as an increase of g0' for a given C1s[0]. Thus, the INM Landau parameters do not tell the whole story in a finite nucleus. Figures 7 and 8 show that the spin-spin coupling has the largest effect on the GT resonance when it is located at or even slightly outside the nuclear radius.
---
Next:
Study of .
Up:
GT resonances from generalized
Previous:
Study of .
Jacek Dobaczewski
2002-03-15