Stalker
(after movie by A.Tarkovsky)

by Jacek Kaczmarski
transl. by Jadwiga Smulko and Ryszard P. Kostecki


Who of us has never travelled by a drowning wreck?
Who amongst us dares to contradict he is flawed?
Who of us has never been by a blinded bird misled?
Who has never been led into wasteland by a stray dog?

And yet, we are enthralled by the fenced area
And it is excluded for a purpose, we want to believe
It's not us within it – it's us without the Zone
It is for us to pace it, with our own gait, be it unfirm
Until all hope, defeated by bitterness, is out - gone.

Thus, in spite of wires, guards' posts and watchtowers
We long to go where going is forbidden
To possess useless, ridiculous mysteries
If only we could burn with passion fever once again
Before a sudden blast flicks off the back of the head

The way might be roundabout and misleading,
Our guide might be a swindler, who craves to make a dime,
But better this, than death on ramparts calcifying
At the invisible borders and trenches, where yawns
A soldier, whose resemblance to a convict is without denying

The path leads through the inundated glens of ages gone,
Under the shallow waters – illegible argot of times past
A trail over the rifles, the manuscripts and icons
Above which the paddle draws an Apocalyptic splash
The wail is not for us, nor the ancestors – but for sons.

Is then the truth for us to find – an empty room
With switched-off phones, that suddenly start to ring?
The dearest blood, that slowly flows in lifeless brook,
A forceless wrath against the Firmament, unheeding,
And the spell of words to save from bad bewitchments' hook?

Is then the truth for us to find – a table of stone,
From which the object of the prayers fell, untouched by hand?
In transport's wheels clatter – Beethoven's aria?
Bottomless abyss, and – above it, suspended –
Our own face, that watches itself in spaces

Of the drowning – whom fortune did not send a raft?
Of the flawed – whom it had ever failed to heal?
When the blinded bird has finally found the right track
And the stray dog has at last sat at the doorsill.



---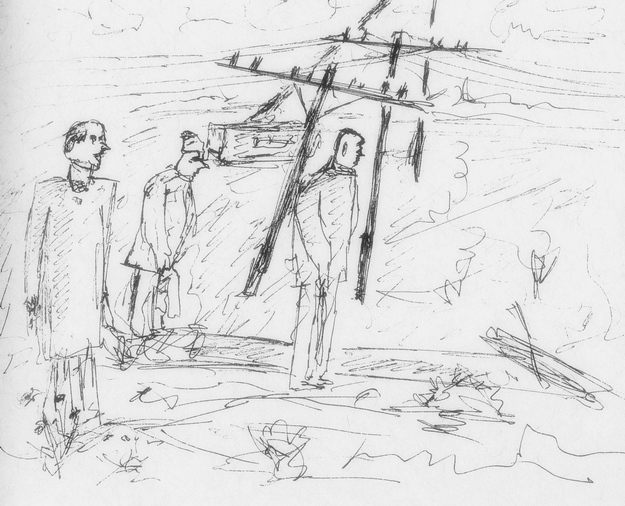 ---
Stalker
(według filmu A.Tarkowskiego)
Kogóż to z nas tonący nie wiózł wrak?
Któż z nas zaprzeczyć może że ułomny?
Kogóż nie łudził oślepiony ptak?
Kogóż w bezludzie nie wiódł pies bezdomny?
A przecież wciąż przyciąga strefa ogrodzona
I ogrodzona nie bez celu – chcemy wierzyć
To nie my w Zonie, to nam odebrana Zona
Nam ją niepewnym, ale własnym krokiem mierzyć
Póki nadziei gorycz wreszcie nie pokona.
Dlatego, mimo druty, wieże i strażnice
Tam chcemy dotrzeć, gdzie nam dotrzeć zabroniono
Bezużyteczne, śmieszne posiąść tajemnice
Byleby jeszcze raz gorączką tęsknot płonąć
Nim podmuch jakiś strzepnie chwiejne potylice.
Droga okrężna może być i oszukańcza,
Może nas wiedzie szalbierz chciwy paru groszy,
Lecz lepsze to, niż śmierć na wapniejących szańcach
U progu granic niewidzialnych i aproszy,
Gdzie ziewa żołnierz tak podobny do skazańca.
Po zatopionych dawno droga to dolinach;
Pod płytką wodą nieczytelne czasu grypsy:
Szlak po ikonach, rękopisach, karabinach
Nad którym wiosło kreśli plusk Apokalipsy;
Nie po nas płacz – i nie po przodkach – płacz po synach.
Więc prawda, którą znaleźć nam to pusty pokój
Gdzie nagle dzwonią wyłączone telefony?
Serdeczna krew snująca w martwym się potoku,
Bezsilny gniew na obojętność Nieboskłonu
I magia słów, co chronić ma od złych uroków?
Więc prawda, którą znaleźć nam to stół z kamienia,
Z którego przedmiot modłów spadł nietknięty dłonią?
W stukocie kół transportu – Aria Beethovena?
Bezdenna toń, a nad bezdenną tonią
Twarz własna co przegląda się w przestrzeniach?
Z tonących – komu los nie zesłał tratw?
Z ułomnych – zdrowia nie przywrócił komu?
Gdy oślepiony ptak odnalazł ślad
I pies bezdomny siadł na progu domu.
Jacek Kaczmarski
17.6.1988